In every scandal and con, there are the big fish and the little fish; and the big fish normally get away with the crimes, while the little fish get fried.
In our ongoing coverage of the Tumon Land Scam involving the former Tropicana hotel property, three siblings have filed two lawsuits against multiple defendants. Among the allegations and insinuations in one lawsuit is that certain defendants conspired to defraud, steal, and launder the proceeds of the theft and fraud. Among the allegations in the other lawsuit is that certain defendants knew the sale of the land interest was wrong and illegal, but went along with the scheme anyway.
The allegations, in a nutshell, are that a woman named Mary Leon Guerrero, with the help of her real estate agent (Ramona Siblang) sold her late husband's family's land and kept and laundered the money from the sale. An undisputed fact in the cases, is that Columbus Development Corporation bought the land interest for more than three times its appraised value, and Siblang helped in that deal as well.
What is Columbus Development Corporation? What exactly does that company do?
Here is what we know. Columbus is a company associated with Philippine billionaire Dr. Lucio Tan, his son-in-law- Joseph Chua, and longtime Chua aides Philip Schrage and Alex Lim. Its sister company, Grandview Corporation, owns the 90-year lease on the Tropicana land, and pays only $3,000 a month ($1,000 to each of three Leon Guerrero families) in rent. Both these companies are related to the more-commonly known Lucio Tan business, Goodwind Development Corporation, which owns the Micronesia Mall. In fact, Schrage is listed on signs throughout the mall as being its general manager.
Other than the links to Goodwind, it appears Columbus has no actual employees, or even separate principal place of business. The company is what some may call a 'shell corporation,' or a corporation without active business operations.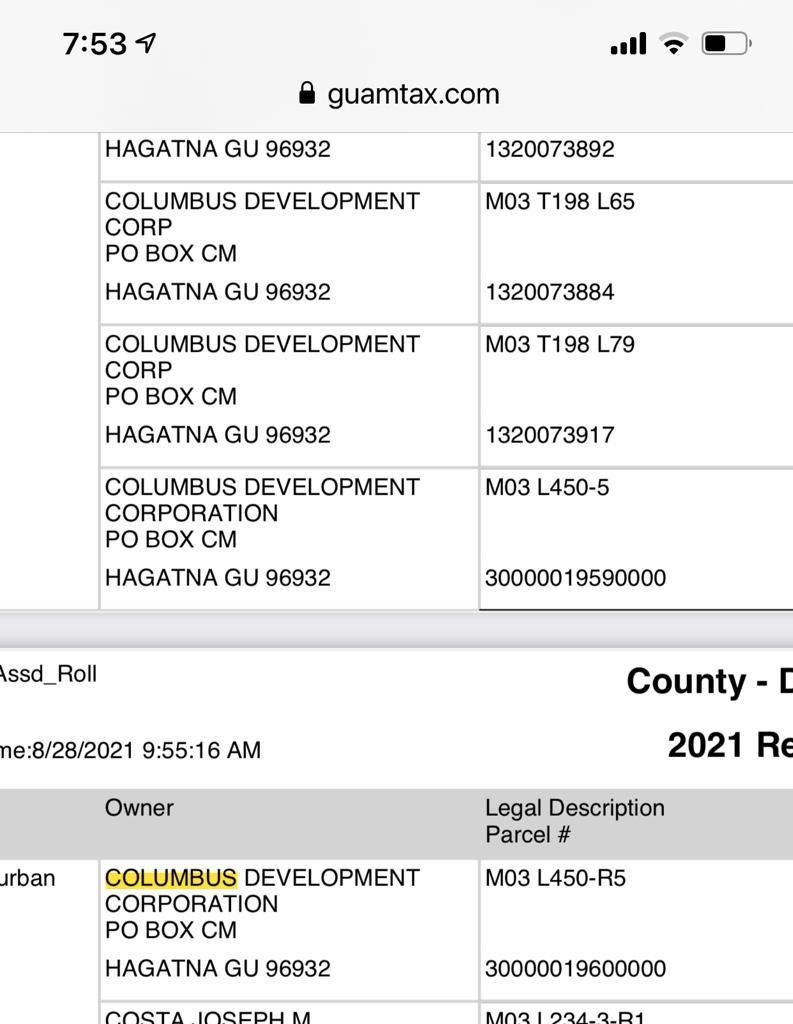 Despite the seeming absence of business operation, Columbus is land-rich on Guam, according to the Guam Department of Revenue and Taxation's property tax assessment rolls. Its listed mailing address – P.O. Box CM, Hagatna, Guam 96932 – can be found in a much-more beguiling and intriguing place than the DRT property tax assessment log.
Columbus's mailing address is in the Panama Papers.
According to The Guardian, "The Panama Papers are an unprecedented leak of 11.5m files from the database of the world's fourth biggest offshore law firm, Mossack Fonseca. The records were obtained from an anonymous source by the German newspaper Süddeutsche Zeitung, which shared them with the International Consortium of Investigative Journalists (ICIJ). The ICIJ then shared them with a large network of international partners, including the Guardian and the BBC."
"The documents show the myriad ways in which the rich can exploit secretive offshore tax regimes," Luke Harding wrote in his report for The Guardian on April 5, 2016. "Twelve national leaders are among 143 politicians, their families and close associates from around the world known to have been using offshore tax havens."
According to the Panama Papers, the Columbus mailing address is linked to two people on Guam – Eusebio So and Jesse Ng.
Both men on February 17, 1992 became shareholders in a company called Maxima Holding Corporation, which was registered in the Bahamas. That company is listed to and operates in Hong Kong, sharing an office at Eton Tower No. 8 at Hysan Avenue Causeway Bay with Acme Nominees Limited. Eton Properties is a development owned by Dr Lucio Tan.
Maxima's other shareholders and directors include Philippine resident Edwin Lim Tan and another Guam resident, Larry Wong Cheung. Its intermediary, Acme, is the Hong Kong holding company of 20 corporations and investment firms all registered in the British Virgin Islands.
The address reported in the Panama Papers is not the only link to Dr. Tan's companies; Eusebio So himself is employed by one of Dr. Tan's many Guam companies.
According to the company profile under Dun & Bradstreet for Greenhill Inc., Eusebio So is the general manager of the Guam-based corporation, which is located in Barrigada, Guam at 2301 Army Dr. "GREENHILL INC has 86 employees at this location and generates $3.03 million in sales (USD)," the D&B profile states. "(Employees figure is estimated, Sales figure is modelled). There are 3 companies in the GREENHILL INC corporate family."
2301 Army Dr. Barrigada is the same address as American Bakery, another of Dr. Tan's companies.
Among the three companies under Greenhill is Allied Pacific Development Group, Inc., listed by D&B as being part of the securities and commodities contracts intermediation and brokerage industry. The company's corporate secretary is Larry Wong Cheung.
These connections, appearing to weave an intricate web among several Tan-associated Guam companies to offshore accounts, may help to understand a mystery in the annals of multi-billion dollar politics stemming from the sudden ostracizing by Dr. Tan of his son-in-law, Joseph Chua, in 2021. After all, despite all roads leading to Dr. Tan's companies on Guam, do we truly believe the billionaire, who does not live on Guam, actually orchestrated any alleged criminal conspiracy involving his own companies and his money?
In May 2021, and following the filing of the Tumon Land Scam Tropicana lawsuit, where Tan company Columbus is a named defendant alongside Chua's aides, Schrage and Lim, Goodwind Development Corporation announced the sudden departure of Chua as its president. He held that position since the 1980s. Coincidentally, depositions in the Tropicana case followed Chua's departure from the company. Then, in October, Dr. Tan took out a full page ad in a Philippine national newspaper telling the world his own son in law has nothing to do with any of his companies.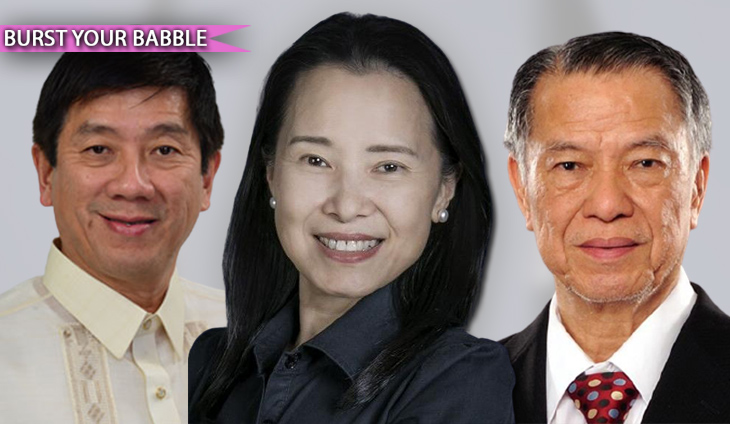 According to an October 17, 2021 article in Bilyonaryo, "the 87-year old Tan axed Chua, the husband of Tan and first wife Carmen's eldest daughter Rowena, from his Guam-based businesses under Goodwind Development Corp. allegedly due to questionable property acquisitions made by the son-in-law without the tobacco and airline tycoon's knowledge."
The article then made what would be the first reported connection between Chua and what is suspected to be the Tropicana controversy: "Tan's auditors stumbled on several property purchases in Guam made by Chua allegedly using funds of Macroasia without authorization."
Mr. Chua kept his silence about his very public fall from grace until the Philippine Star's Iris Gonzales published a story on December 20, 2021 that included her exclusive interview with him.
Without identifying which property, Ms. Gonzales wrote in her story, Joseph Chua breaks his silence, "Chua allegedly land-grabbed a property from his father-in-law for his own personal property business in Guam. Not true, he says.
"Still related to the Guam business, which Chua was in charge of, Chua supposedly was blamed for the temporary closure of American Bakery in February this year, which was due to some government-imposed sanitary procedures. Some quarters insisted the closure was permanent and that it was Chua's fault, but the bakery had reopened less than a month after, when he was still president of the Guam business, he says."
Seven days later, she published a reprise, On Joseph Chua – wait, there's more. According to her article, Gonzales was able to get more information from Chua about what was happening in the Guam Tan companies. She asked him about the rumor that several longtime employees had been culled or were leaving.
"I corroborate the many resignations and early retirements. Old time employees, managers, and supervisors were pressured to resign or retire early or outright terminated," Gonzales reported Chua said to her.
According to Ms. Gonzales's article:
"He also belied reports that he and his wife transferred Guam company shares to their children, as well as the permanent closure of the bakery as alleged by some quarters.
"'In Guam, I was able to quadruple stockholders equity from 2001 to 2020,'" Gonzales quoted him as saying.
Three days later, the plaintiffs, who sued Columbus and two of Chua's underlings in 2020 over the Tropicana scandal filed a second lawsuit in the Superior Court of Guam. Neither lawsuit names Chua as a defendant, but the second lawsuit delves into the use and alleged laundering of the money Columbus paid to Mary Leon Guerrero in a deal brokered by Ramona Siblang.
Among the chief arguments in the complaint are two life insurance policies that cost Mary and her son, Collin Leon Guerrero, a total of $600,000. The nature and status of those policies remain under a cloud, but they were sold to Mary and Collin by Ramona. According to the documents going all the way back to the first lawsuit, Ramona was at the center of the deal on both ends – for the seller and the buyer – from the jump.
There are big fish, and there are little fish. Will Ramona Siblang get swallowed up?