Jailed men at the Hagatna lockup found out about Joshua Keith Terlaje's cooperation with federal authorities and allegedly assaulted him before early September, weeks before his case was unsealed in federal court.
"Defendant has stated to the Court that he has been threatened with his life while confined and that this threat was due to his cooperation with the government," wrote his attorney, William Gavras, in a September 7 motion to release him from the custody of the Guam Department of Corrections.
"At his last Court appearance his hand was visibly swollen as the result of an attack which Defendant took as a down payment for the price he must pay for having helped society through his cooperation," Mr. Gavras added.
Mr. Terlaje, on May 2, agreed to help the federal government bring down other criminals in exchange for a recommendation of leniency at his sentencing before a federal judge. He and the United States Attorney for Guam and the NMI  entered into a sealed plea agreement, when he pleaded guilty to being a felon in possession of firearms.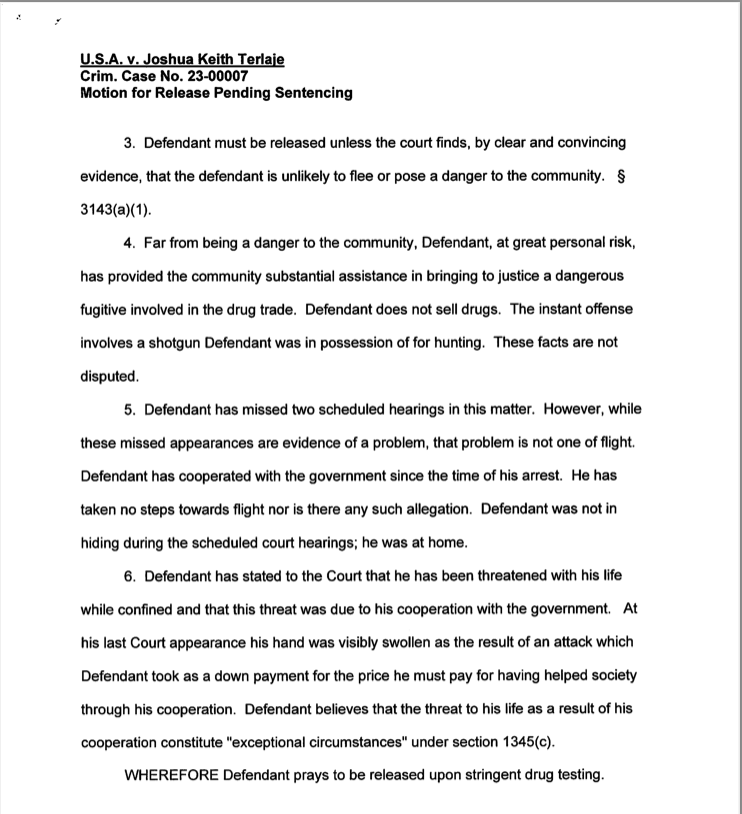 That plea agreement was unsealed last Friday, indicating his cooperation had ended and his case now is ripe for sentencing.
According to Mr. Gavras' motion on behalf of his client, Mr. Terlaje "at great personal risk, has provided the community substantial assistance in bringing to justice a dangerous fugitive involved in the drug trade." Mr. Gavras did not state who the fugitive is.
The Gavras motion also shed light on the duration of Mr. Terlaje's cooperation, which began long before his May 2, 2023 plea agreement. "Defendant has cooperated with the government since the time of his arrest," Mr. Gavras wrote. While Mr. Terlaje was not indicted in federal court until this year, he was arrested on March 12, 2021 for the crimes for which he later was charged.
On that evening – as previously reported on Kandit – local conservation officers arrested Mr. Terlaje along with Vincent A. Flores on suspicion of illegal hunting. The officers found two 12-gauge shot guns along with Federal ammunition, according to the plea agreement, which the pair allegedly tried to conceal in the grass near their truck.
Mr. Terlaje "confirmed the two rifles [law enforcement] found were the ones he received from C.T.." the plea agreement states. The U.S. Attorney's Office normally conceals and references by initials only the identities of people who either remain under investigation, or are confidential sources of information or confidential defendants.
The plea agreement, which Mr. Terlaje signed, states he waived his right to remain silent to the conservation officers.
"Defendant advised that he was at a barbeque and the subject of hunting came p. Defendant told the guys at the barbeque he wanted to try hunting and asked who had hunting rifles," the plea agreement states. "Defendant said C.T. offered him two rifles because C.T. does not hunt anymore. When asked if the guns found were guns Defendant received from C.T., Defendant said, 'Yes it was.'"
One of the rifles,  however, was registered to "J.A.F.," and it was not reported stolen nor missing. However the last time J.A.F. registered this firearm was on December 29, 1995."
Mr. Terlaje was convicted in local court in 2018 of a 2018 felony burglary case. Felons are not allowed to possess firearms.
Because of Mr. Terlaje's "substantial cooperation," the USAO may recommend substantial downward departure in his sentence to the court.
His plea agreement also differs from standard plea deals offered by the USAO in that it states, "the Court will be free to impose a sentence below any statutory minimum," indicating the prosecutor's willingness to accept a sentence below the sentencing guidelines depending on Mr. Terlaje's assistance.