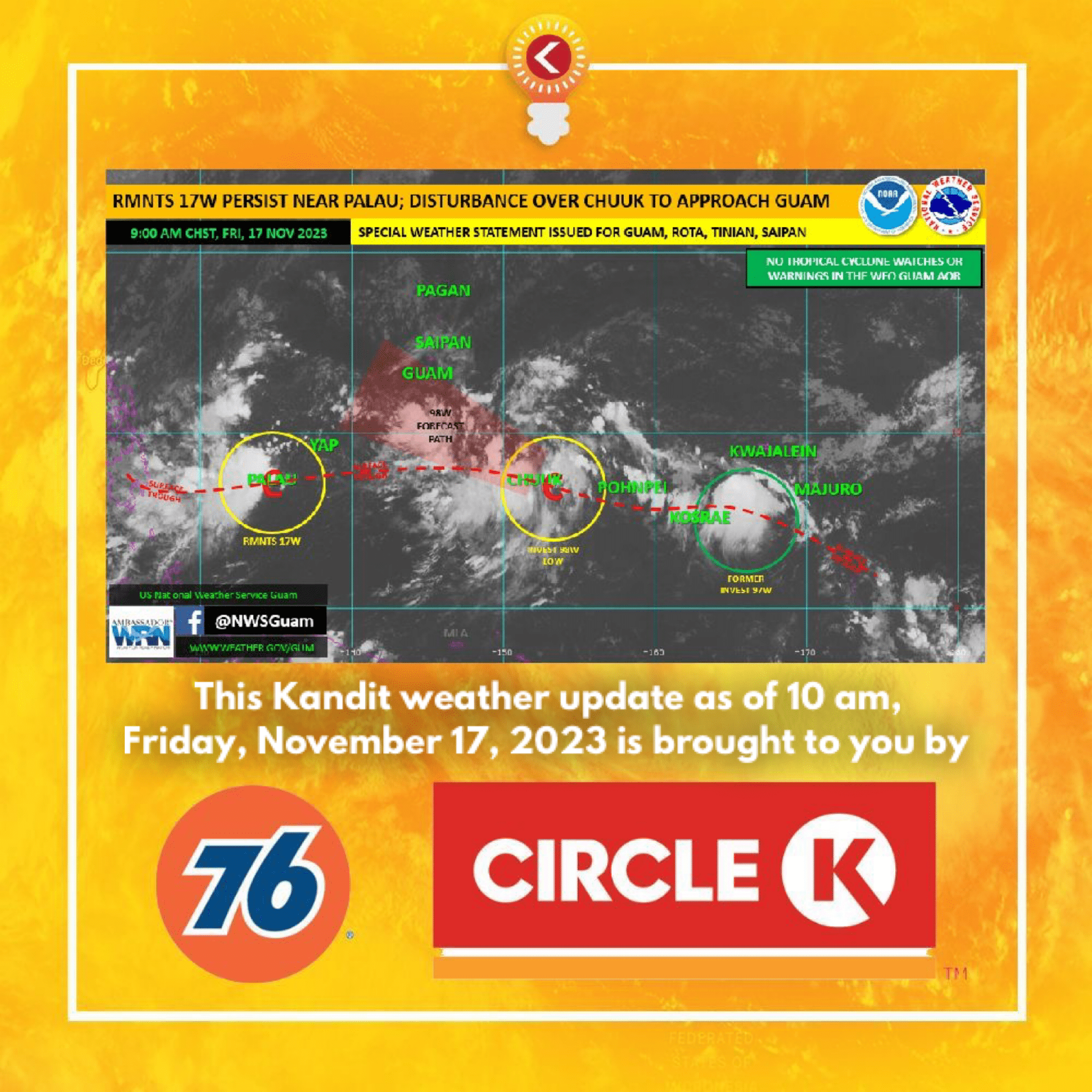 (National Weather Service)—Please see the graphic in regards to the tropical disturbance, Invest 98W, located near Weno, Chuuk. A Special Weather Statement has been issued for Guam, Rota, Tinian and Saipan. 
Although Invest 98W is not expected to pass the Marianas as a tropical storm or typhoon, it is possible to strengthen into a tropical depression this weekend as it passes near Guam. 
Stay up to date to weather forecasts and trends from NWS Guam the next couple days as this situation evolves. Weekend plans should anticipate showers, potential for locally heavy rainfall, gusty winds and isolated thunderstorms. 
TC POTENTIAL/HAZARDS: We are watching a tropical disturbance, Invest 98W, located just east of Weno in Chuuk State. Centered near 7N152E, it was tracking slowly west-northwestward generating areas of showers, locally heavy rainfall, and thunderstorms. Sustained winds of 15 to 20 knots are found around the periphery and well to the north of this disturbance, with lighter winds closer to the center and along the surface trough that stretches across Chuuk and Pohnpei states. 98W is currently rated LOW for development by the Joint Typhoon Warning Center. This means that the potential for development into a significant tropical cyclone (tropical depression) in the next 24 hours is unlikely. 98W is expected to continue west-northwestward toward the Marianas with some development. As currently forecast, 98W will pass near or just south of Guam late Saturday, most likely as a developing tropical disturbance, but possibly as a tropical depression. Read more in the Marianas Impacts section below. Farther west, the RMNTS of 17W are moving ever so slowly through the Republic of Palau. Now centered over the Republic, RMNTS 17W will continue slowly westward. Heavy showers and thunderstorms have moved just west of Palau with improved weather moving in from the east.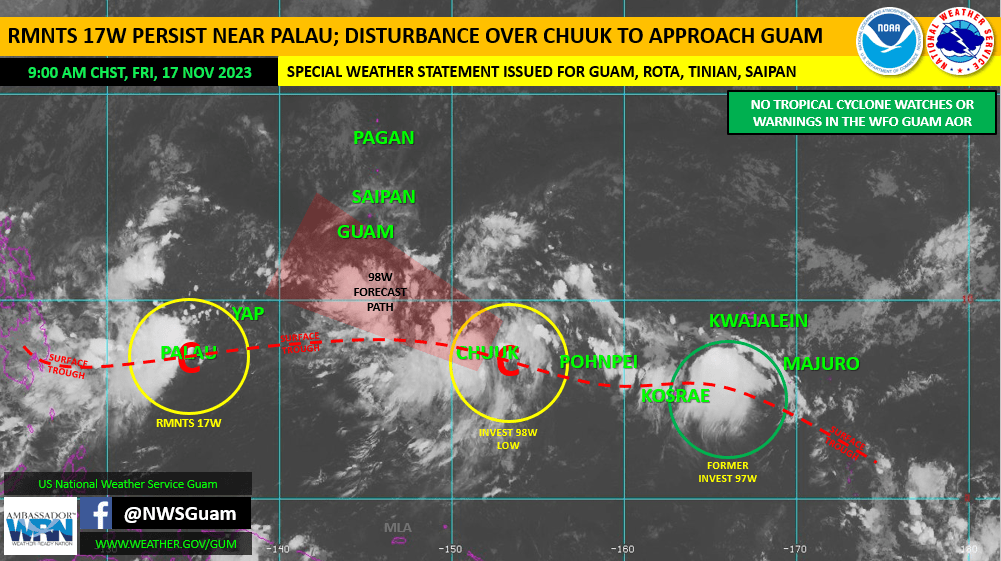 MARIANAS IMPACTS: Gradual development is possible with 98W as it makes its approach toward the Mariana Islands. Scattered showers today will increase in coverage Saturday as 98W nears. Locally heavy rainfall is possible Saturday through Sunday morning. This could lead to urban and small stream flooding. We expect winds to increase tonight with gusts up to 30 mph on Saturday. Numerical model support for a more organized system pushing by the Marianas is decreasing; with the highest likelihood, that 98W will pass as just a tropical disturbance. It's still possible that 98W could intensify into a tropical depression this weekend, but the likelihood of a tropical storm passing by Guam is decreasing. Keep up to date on all the latest forecasts and trends from the NWS Guam.