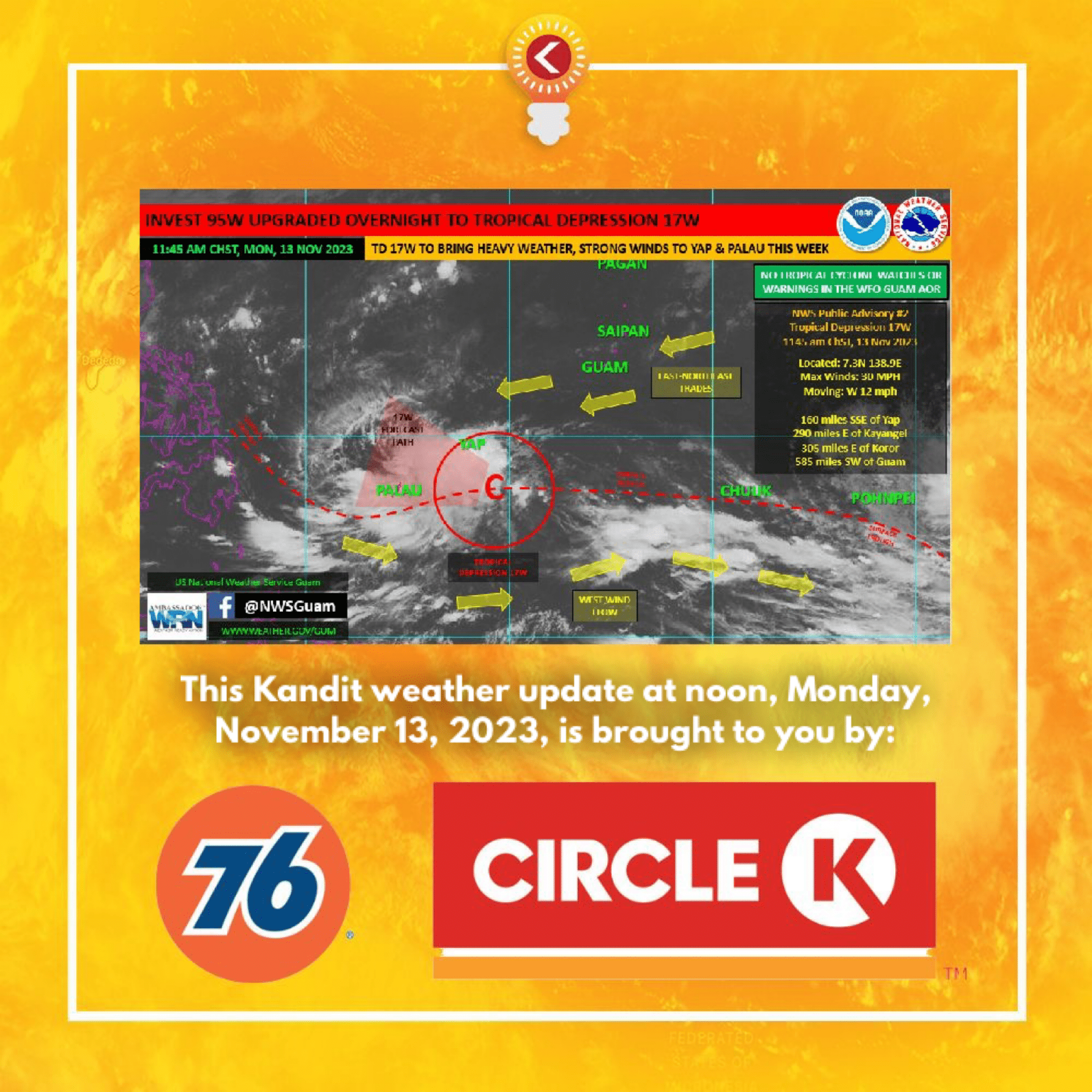 (National Weather Service)—The tropical disturbance, Invest 95W, was upgraded to Tropical Depression 17W overnight by the Joint Typhoon Warning Center. It is now the 17th tropical cyclone in the western North Pacific in 2023. The information in this update is based on the NWS Guam Public Advisory #2, issued at 8:00 am ChST. At 7:00 am ChST, Tropical Depression 17W was centered 160 miles south-southeast of Yap, 305 miles east of Koror and 585 miles southwest of Guam near 7.3N 138.9E. 17W was moving west at 12 mph with maximum sustained winds of 30 mph. 17W is expected slow in forward motion as it continues west or west-northwestward the next couple days on a track to pass near or just north of Palau. As currently forecast, 17W will maintain its current intensity for the next day or two but could strengthen into a tropical storm (maximum sustained winds of 39 mph or more) by late Wednesday or early Thursday. As of 12:00 pm ChST, there are no tropical storm watches or warnings in effect for islands of Yap and Palau.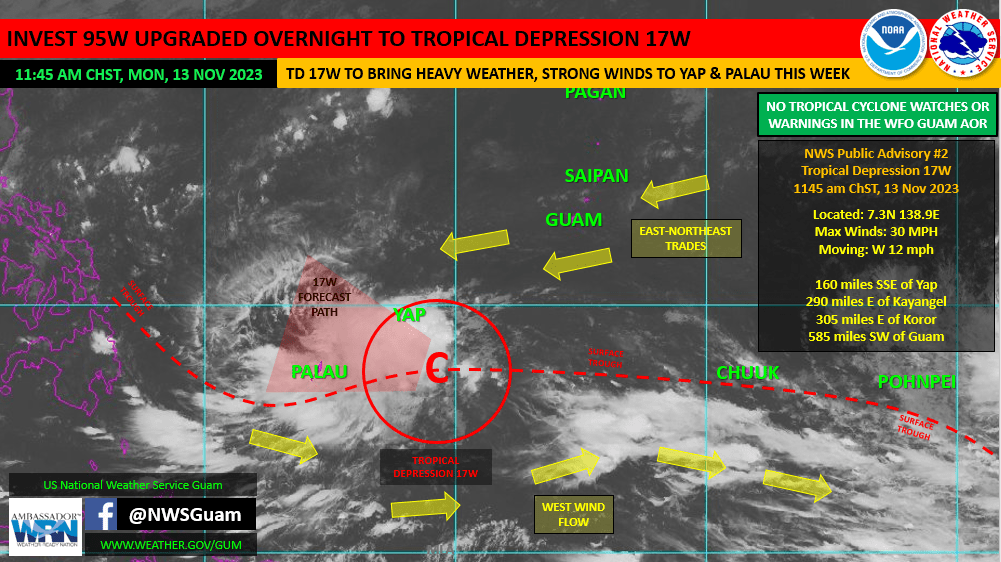 FORECAST IMPACTS FOR YAP AND PALAU: A Special Weather Statement has been issued for Yap State and the Republic of Palau providing detailed weather forecast information related to the passage of Tropical Depression 17W. This will be a 'long-duration' weather event, meaning that heavy weather conditions (showers, locally heavy rainfall, thunderstorms and strong gusty winds) could persist for 2 to 4 days, particularly for islands in the Republic of Palau. At the very least, this will be a 'tent, canopy & tarp' event, meaning these, and other loose items, should be heavily secured or taken down prior to worsening conditions. Do not underestimate the power of, and impacts from, a passing tropical depression. A tropical cyclone does not have to be a typhoon to cause significant impacts. Significant rainfall could increase the likelihood of mudslides in steeper/mountainous terrain the next couple of days. A Small Craft Advisory will be in effect for the Yap Coastal Waters from 3:00 pm today through Thursday evening. Residents across Yap State and the Republic of Palau should keep up to date with all weather forecasts and information from the National Weather Service WFO Guam, WSO Palau and WSO Yap, as well as for information from the National Emergency Management Office in Palau, and the Yap State Government.
ALSO: NWS Guam is monitoring Invest 96W to the east and will provide updates as necessary.