Kandit has consistently supported our community's need for a new hospital. We recently published testimony by businessman and GRMC founder Peter R. Sgro, Jr. We also published pictures of interior and exterior design concepts that were part of Mr. Sgro's testimony. We applaud these ideas since it is obvious Mr Sgro's vision for a new hospital would give our people a true state-of-the-art hospital with significantly improved hospital care, including care for children.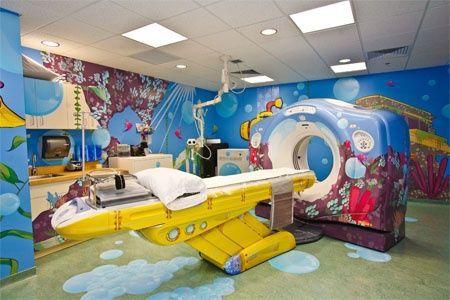 After learning more about this very unusual looking MRI machine (photograph above) we felt the story was one we would share with our audience which we also felt demonstrates why details are so important in planning the development of a hospital. We especially feel that the years of experience by Mr Sgro in singlehandedly taking GRMC from vision to reality, shows hospital development expertise which essentially no one else in our community possesses.
Among Mr. Sgro's recommendations for a replacement GMH are facilities and medical services for children that, most importantly, provide for the specialty needs of sick children, and that keeps them as happy and comfortable as possible.
So think about it. If your child was sick would you not want the very best hospital diagnosis equipment to help guide doctors to make your child better? This particular type of MRI which Mr. Sgro feels should be included in the new hospital is designed specifically for children.
"During the initial year of working on bringing a private hospital to Guam, I felt it was important not only to tour a variety of hospitals, but also meet their CEO's and heads of various departments," Mr. Sgro told Kandit. "The hospitals I traveled to and toured included ones in Mitchel, South Dakota, Pittsburg, Denver, Seattle, Palo Alto, Los Angeles, Tokyo, Seoul and Manila. But it was the tour of the University of Pittsburg Medical Center Children's Hospital which really opened my eyes to the type of care our children on Guam should have. The University of Pittsburg Medical Center is consistently ranked as one of the top ten hospitals in the nation in the annual edition of hospitals in US News and World Report," said Sgro.

"While at the children's hospital, together with radiologists, we walked through three suites with MRI machines," Mr. Sgro continued. "It felt like you were walking into a children's Disney movie set or onto pages of comics for children. Every inch of the suites from the walls, ceilings, floor and even the MRI equipment itself were painted with a theme attractive to children. I recall one suite giving you the impression you just walked into a Disney Jungle Book set. There were not only various stuffed animals automated and synchronised to move but there even was an artificial waterfall.  I recall another suite having the theme of pirates," added Sgro.

"As I talked more and more to the radiologists, doctors and nurses at this children's hospital, it became apparent that all these environments were not just done for decoration, but also to improve better outcomes when children go through an MRI. Hospital staff referred to it as "Diversion Therapy" created to significantly reduce the child's fear and maximising MRI images that have the child relaxed and still. Most notable as well was their explanation that this form of diversion therapy for children reduced the need for sedation by as high as 90%. I thought it was terrific that now in most cases they did not have to use an IV on the child," added Sgro.

"I feel the design of the new hospital should include a robust pediatric unit as well as a robust labor and delivery unit. For not just the delivery of good care but financial sustainability, the new hospital should provide services not offered by GRMC and also not provide expensive services already provided by GRMC that already meets community demand. Not long ago GRMC closed their pediatric unit and labor and delivery unit. This is a perfect opportunity to design the new hospital to provide those services to children and expecting mothers as well as already started thinking of equipment to purchase that simultaneously increased the standard of care and foster financial sustainability," added Sgro.