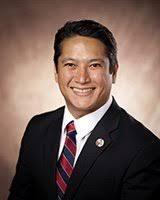 Gov. Ralph Torres's chief of staff, Wil Castro, may be running again for Guam senator. His former staffer, Joe Mesa, picked up a senatorial packet for Mr. Castro, according to Guam Election Commission records.
Mr. Castro spent two terms in the Guam Legislature before running unsuccessfully for Congress in 2018. He moved to Saipan last year to lead Mr. Torres's office.
Kandit reached out to Mr. Castro by phone message (via WhatsApp). We asked him:
Are you running for Guam senator?
If so, will you be moving back to Guam soon?
If so, who will take over as the governor's chief of staff?
The former senator read the messages, but has not responded since they were sent two days ago.
Mr. Torres currently is embroiled in criminal proceedings on charges of corruption in the CNMI Superior Court. Mr. Castro and his protege, Mr. Mesa, were both seen exiting the courtroom following Torres's arraignment.
The question of Mr. Castro's move to the CNMI during his chief of staff tenure may be an issue for his potential candidacy.
§1423f of the Organic Act of Guam, which sets out the qualification for legislators, states: "No person shall sit in the legislature who is not a citizen of the United States, who has not attained the age of twenty-five years and who has not been domiciled in Guam for at least five years immediately preceding the sitting of the legislature in which he seeks to qualify as a member, or who has been convicted of a felony or of a crime involving moral turpitude and has not received a pardon restoring his civil rights."
According to Black's Law Dictionary, "That place in which a man has voluntarily fixed the habitation of himself and family, not for a mere special or temporary purpose, but with the present intention of making a permanent home, until some unexpected event shall occur to induce him to adopt some other permanent home."
Mr. Castro was a popular senator on Guam, who previously served as former Gov. Eddie Calvo's director of statistics and plans. He was a member of Mr. Calvo's hospital rebuilding task force, and the governor's Imagine Guam initiative to formulate a new master plan for the island.