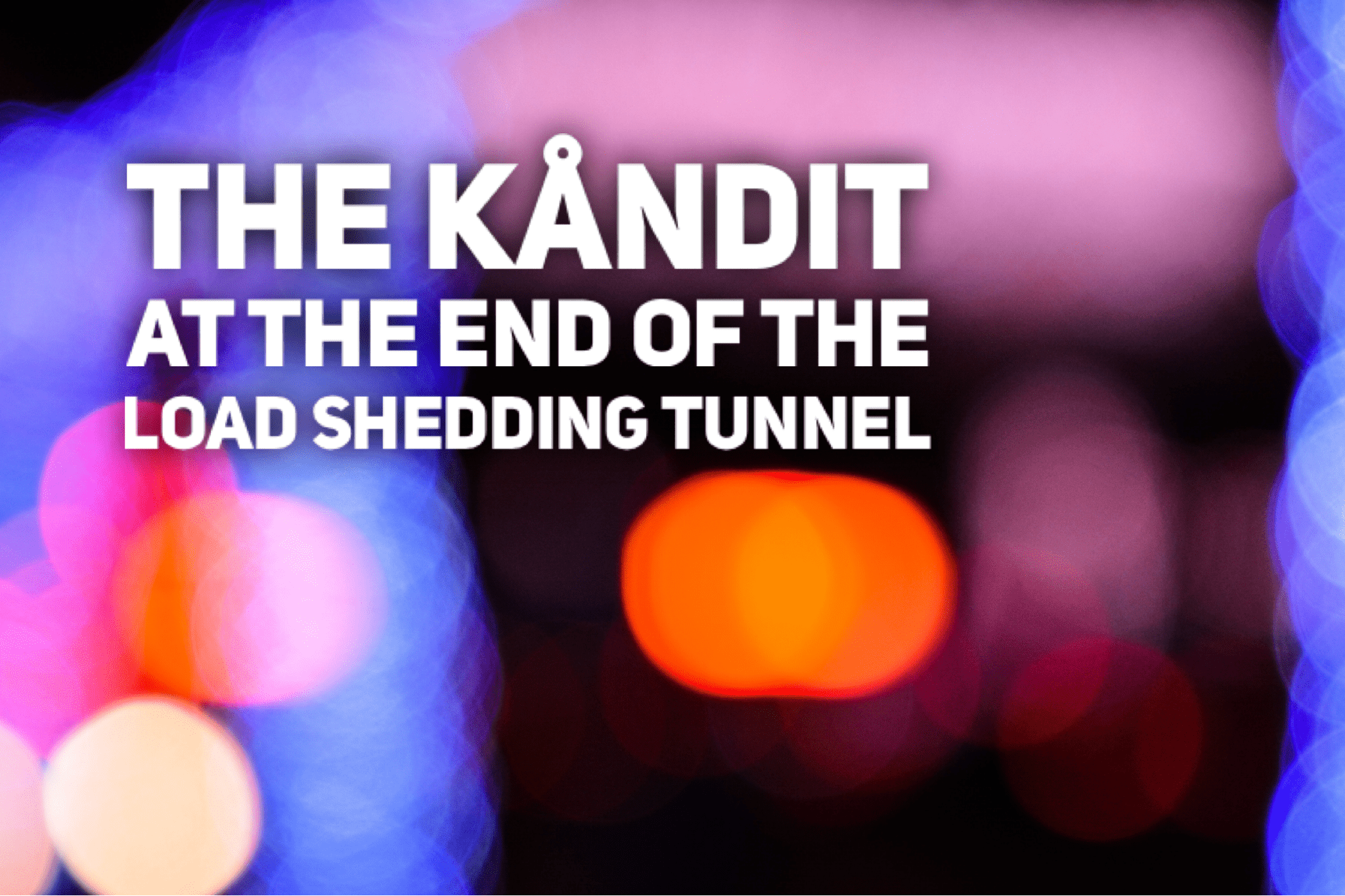 I was as pissed as everyone else Friday night, when the power went off in Guam the first, then the second, then (#@*!) the third, and finally the fourth time. A few swear words for Guam Power Authority flew out my mouth around 10 p.m.
As with all things Kandit News, however, our coverage of these current events cannot be governed simply by our experience and emotion, but by the truth of what is happening and what our options are. I'm not going to join the mob in laying this story out. What this article will state may not be what you want to read. But it will be informative, and it will tell you the truth.
First of all, much as it is easy to throw this stone, the power outages are not Lou Leon Guerrero's fault. Governors have had close to nothing to do with the production, transmission, and distribution of electricity into our homes and businesses since the end of Carl Gutierrez's tenure. That's when republican senators of the day stripped governors of any oversight of GPA and Guam Waterworks Authority, and vested that power in an elected Consolidated Commission on Utilities. If you believe the CCU has failed us, then you will find an ally in Douglas Moylan, the elected attorney general. He has opined that the CCU is inorganic and should be abolished. He firmly believes that we, the public and the ratepayers, should be able to hold the governor accountable, when the power goes off or the water system sucks.
Secondly (and this is the part you're really not going to want to read), there was really nothing reasonable the CCU or GPA could have done to avoid the system failures that are causing the power outages. Unless if – prior to the pandemic – the CCU had taken a gamble that a pandemic would happen, raised power rates to afford and fuel-, and purchase fast track generators to store away in the event a pandemic would shut down the world.
In 2019, before we knew anything about the coronavirus and in the midst of ever-rising fuel costs that increased our power bills, how many of us would have accepted such a plan? Be honest with yourselves.
If we had those fast-track generators (or whatever they're called these days), GPA would be able to turn them on each time one of its 50-year old base load generators went off line for maintenance or emergency repairs. The inoperability of those generators from time to time are what cause the power outages. And they only happen at night (particularly following a hot day), because that is when most people are home and drawing on the power system. The current power system with all the generators fired up at one time contains barely enough capacity to keep the island running at night following a hot day.
If one of those generators go down (and most of them are years older than their shelf life and will absolutely break from time to time), there will be load shedding.
GPA planned for this, years in advance. Part of the high cost of our power bills today is the money GPA generates to pay back bonds the agency took out years ago under the Calvo administration in order to build the replacement to several of its old generators: the Ukudu Power Plant.
The Ukudu Power Plant originally was scheduled to be completed and online in a few months. This is where the pandemic fits in.
Building a power plant is a phenomenal development and regulatory undertaking. Not only has the plant developer had to navigate Guam's tricky construction and labor supply, but through the several stages of construction, GPA needed to secure clearances and permits from the U.S. Environmental Protection Agency.
The U.S. government (read: US EPA) shut down when former President Trump declared the public health emergency in early 2020. Restrictions were lifted piece by piece over time, but Ukudu construction had to be pushed back substantially while US EPA offices were either shut down, under-operating, or back up and catching up on the backlog.
At some point construction continued. And, then, Mawar. WTF. Typhoon damage to the plant under construction set the opening date back to 2026.
So, here we are in November 2023, with more than two years left to the point in time when GPA will be able to produce enough electricity to meet our power demands in the evenings following hot days in Guam. Short of someone having magic powers to have waved off a pandemic and a typhoon, or an oracle who could have told us to purchase smaller generators ahead of the Ukudu opening, there really was nothing GPA could have done to avoid the predicament we find ourselves in.
It's not like these people sit around and cackle as they find ways to turn off our power. They don't enjoy it. They live in the same neighborhoods where our power goes off, too. Their appliances also break.
Digression: Dear GPA, if you want to win back some public perception points, you need to conduct an aggressive public information campaign about how people can be reimbursed by you for the appliances your dirty power outages have broken. Don't act like it's not your fault. This is part of the process. Digression over.
As for what happened Friday night, well, here's more bad news. You know that load shedding schedule GPA sent out at the start of the month? That schedule only is good if up to two baseload generators go down in one night. On Friday night, two baseload generators were down AND non-baseload units went offline.
"This will improve as Piti 8 emergency repairs are expected to be completed soon," a statement from GPA at 10:26 p.m. Friday reads.
But there's good news. As in, we might not have to endure load shedding for three years as we await the operation of the Ukudu Power Plant.
"GPA is working toward several solutions, temporary and permanent," the GPA Friday night news release states. "We've moving to bring in temporary power. That docket will be before the Public Utilities Commission this month. If we get all approvals and there are no protests, we hope to have temporary units online within 100 days after contract signing."
The agency is working with Will Parkinson, who leads the legislative committee with oversight of the utilities, on an expedited procurement process to acquire the parts and repair the diesel-operated generators. These are the old fast track generators purchased following the last load shedding crisis during the Ada and Gutierrez administrations.
"If passed, we can increase output from these units by 25 megawatts by April," the GPA statements reads. "The Yigo PMC bid is under protest appeal at the Office of Public Accountability."
Pesky protestors.
In the meantime, Piti 7 is expected to be back online next week following preventative maintenance work, increasing the power supply by 9 MW. Typhoon damage repair to Yigo CT is underway and will be completed by February, increasing the power supply by 20 MW.
Solutions are underway. They will not come on time for assurance that the power will be on for Thanksgiving and Christmas, but GPA is working on fixing the problems.
As for the recent pay raises GPA handed out. I'm going to go with the mob on this one. At the very least, that decision was poorly timed. I'm talking tone deaf. There is no doubt in my mind the people who got those raises deserved them. In my recollection of the post-Mawar agony, most of us celebrated the hard work of those GPA linemen and auxiliary staff who worked their butts off to restore electricity. I'd say they all deserve pay raises, which in the scheme of things account for pennies on our power bills. But the timing of the raises was, well, wow.
In the midst of these load shedding blues, it is natural to want and indeed need someone or something to blame. I get it.
Kandit always will be one of the first to point out some failure of government leaders. In this case, the conspiracy wasn't among officials with ulterior motives. The conspiracy was among events that involve Mother Nature, and the prices of oil, construction, and labor.
But don't get me wrong. Just because it isn't necessarily GPA's "fault" doesn't mean we can't keep pumping out hilarious memes about the power outages. It's good to keep the government on its toes.
And if you've read to the end of this story, you can count your blessings about one more thing: your cell service provider didn't go out on you.
Ahhhh, Guam 2023. These gifts keep giving.