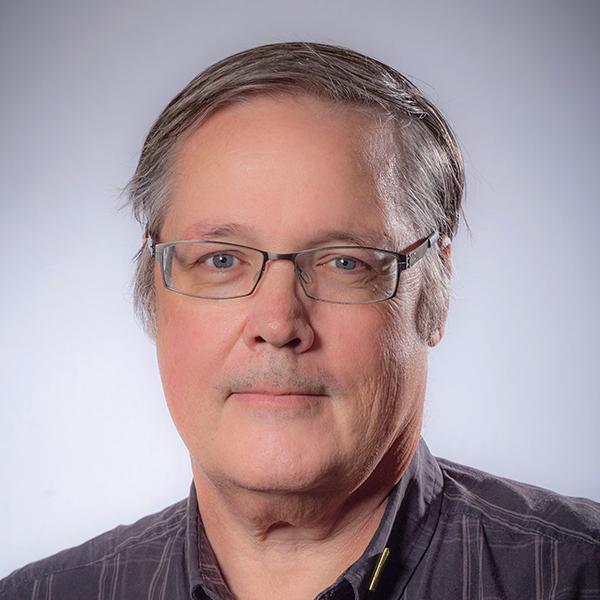 The University of Guam is punishing a professor for criticizing Gov. Lou Leon Guerrero. Dr. Ron McNinch, a political science expert and member of UOG's public administration faculty, is fighting back and accusing UOG president Thomas Krise of an age-old-UOG practice: violating the free speech rights of members of the university community.
On October 24, 2022, Dr. McNinch sent an email to his students and copied the media to show solidarity with the students. The students had spent months coordinating the quadrennial Great Debates, a UOG tradition and public services to the voters of Guam since the gubernatorial election of 1994. It was, historically, the final debate before the general election for governor; that is, until Gov. Lou Leon Guerrero's campaign pulled out of the event, and Mr. Krise pulled the plug on it.
Dr. McNinch, in response to the Leon Guerrero campaign and Mr. Krise, wrote to his students:
"Thank you so much for your efforts and the $20,000 you raised in car washes and research projects to fund the great debates. This is a major production.

"Do not fear. As Chair of Public Administration and Legal Studies, the Great Debate will occur and I, as chair, or other faculty members in our division will argue with appropriate zealousness, the side(s) that do(es) not appear. The voters of Guam deserve to have issues debated and argued. I can stand in for Felix Camacho or Lou Leon Guerrero, you know I will. I debate very well. Who ever does not show up will not win this election. It is just that simple. This is political calculus everyone can understand.

"This is reality. Let everyone else play politics. The Great Debate will go on! Do not play with the University of Guam and our students! Sincerely, Ron McNinch Chair.

"PS: May the team with the most votes win. If you don't show up, you won't win."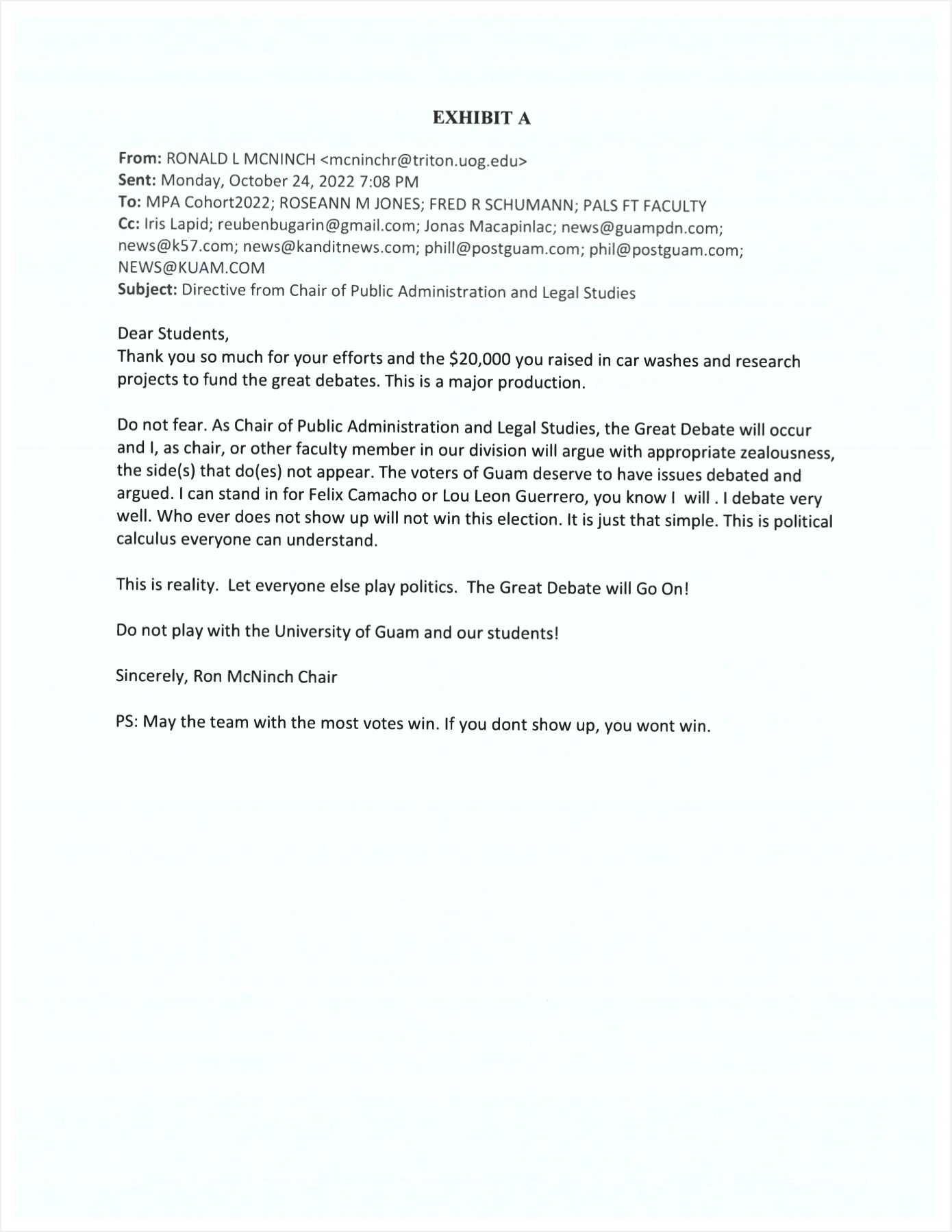 Two days later, Mr. Krise wrote Dr. McNinch a "Notice of Alleged Inappropriate Behavior," stating McNinch's email to students and the media may have violated the university's Faculty Union agreement, and its Rules, Regulations, and Procedures Manual.
"The email may… violate… the Faculty Union Agreement because the statements 'Who ever does not show up will not win this election,' 'If you don't show up, you won't win,' and 'Do not play with the University of Guam and our students,' may be perceived as being insulting, rude, or belligerent to the political candidates that were invited to participate in the Great Debate," Mr. Krise wrote in his notice to Dr. McNinch.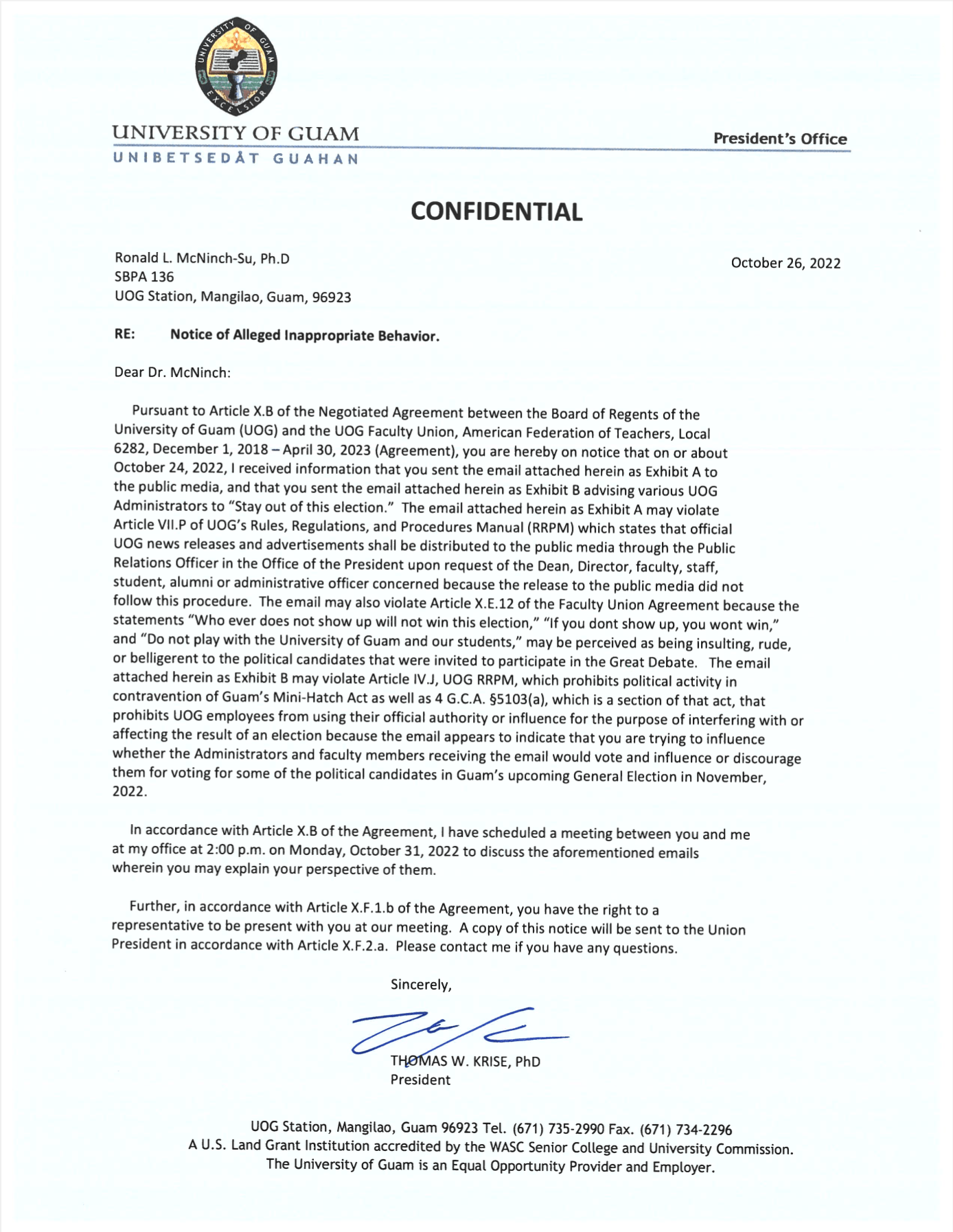 This would not be the first time the university punished its faculty and students for speaking out. Former president Dr. Robert Underwood dragged Dr. McNinch through a disciplinary process for blowing the whistle on a conspiracy by faculty of the College of Liberal Arts and Social Sciences to cover up an illegal sex scandal by one of their colleagues. That professor eventually was tried and convicted by a jury of sex crimes, but not before the convicted felon's supporters (who still remain leaders at UOG) tried in vain to silence McNinch and the students who came forward with bravery to stop the professor from having any more power over young women in his classes.
Dr. McNinch fought the trumped-up charges against him, which are eerily similar to the current charges by Mr. Krise. The University illegally hired outside counsel, using hundreds of thousands of dollars in taxpayer funds, to represent itself in federal court. UOG was forced to settle the case, and despite Guam law dictating disclosure of such financials, the university moved for its sealing.
Dr. McNinch had been in the midst of forcing UOG to comply with Guam law, when Mr. Krise disciplined him on essentially the same charges: violating UOG rules by speaking out publicly on a matter of political interest.
The professor appealed the discipline to the UOG Board of Regents, which is scheduled to hear the case Tuesday afternoon.